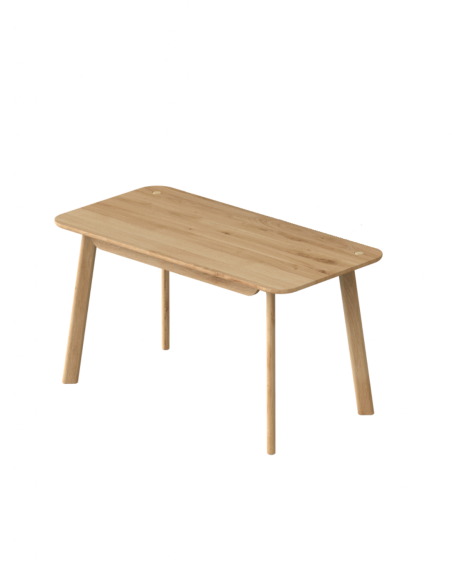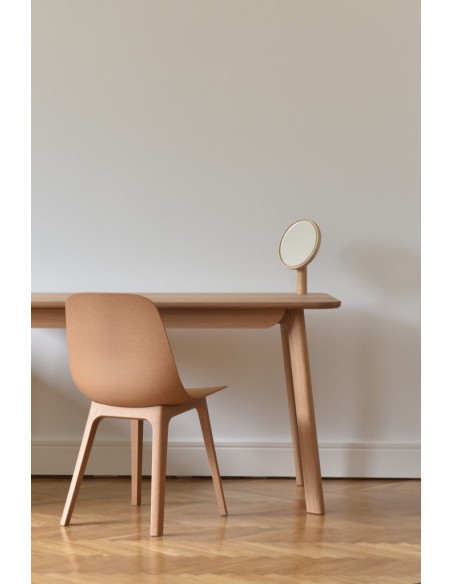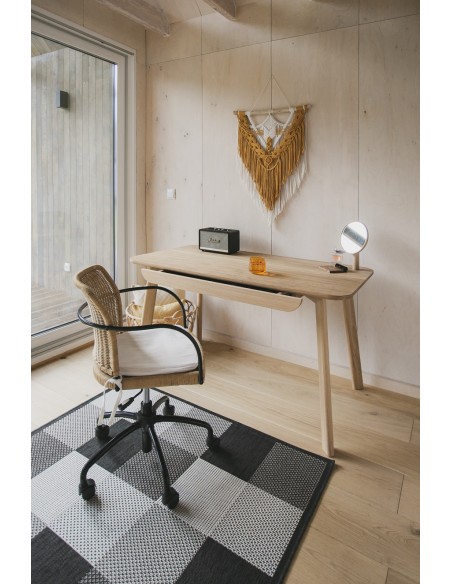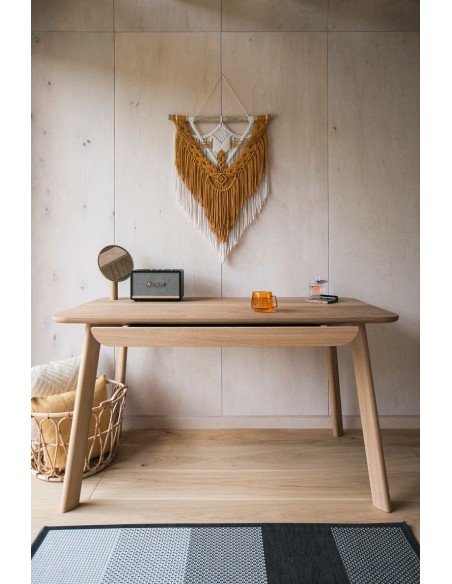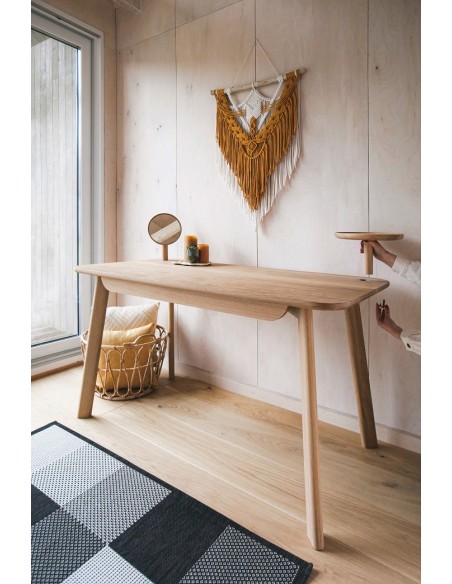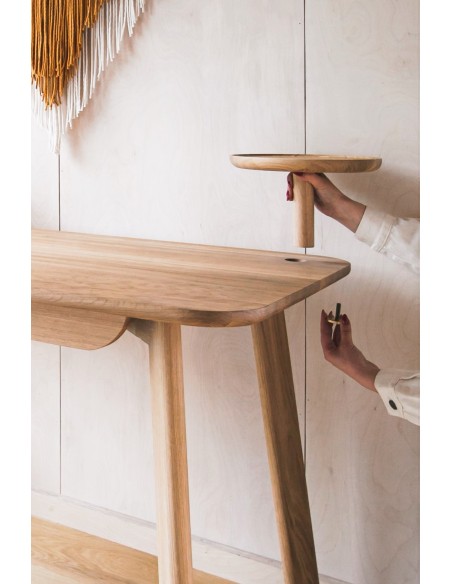 Solid oak desk with a quiet closing drawer from the collection BON featuring multifunctional furniture. It has two holes covered with brass-coloured plugs into which you can screw in a cake stand and a mirror giving the piece of furniture a wider functionality. The desk is coated with matt varnish so that the effect is that of raw wood. It was made of the highest quality oak wood from the Polish State Forests. A design that won an award in the Good Design 2021 contest. We deliver the product already assembled! The price of the furniture does not include accessories - you decide whether you want to buy them or not.
BÓN desk - Several functions in one piece of furniture
This desk from the collection of multifunctional furniture BÓN can also serve as a dressing table or a small table. It is made of impeccable quality wood and protected with a high-quality varnish. Thanks to this form of finishing the wood gets a raw look and natural light colour. The furniture is designed in a simple, yet sophisticated style. This noble simplicity is expressed in both the shape and the neutral, unobtrusive finish.
Desk, table, dressing table - 3 in 1
When you add chairs, the oak desk can serve as a handy table for two. A mirror or a cake stand is available as an option. They can be easily screwed to the furniture thanks to special holes. After mounting the mirror, the desk can be successfully used as a dressing table. The cake stand can be used to place a laptop, important things (e.g. phone, documents) or decorative elements (e.g. a potted plant or a vase of flowers). If you don't want to use screw-on attachments, the holes are covered with discreet brass plugs.
Practical décor applications
A wooden dressing table works well in a bedroom, a table in the living room or kitchen, and a desk wherever we want to locate a comfortable place to work. The furniture is functional not only due to its multitude of uses. The practical pull-out drawer for storing things and the ease of keeping the top clean also contribute to this. The varnish used prevents the wood from turning yellow and allows you to keep its visual and functional qualities for many years.
Universal and interesting design
The oak desk fits well into modern and Scandinavian-inspired stylistics, but it also matches very well with boho, vintage and japandi style, the latter gaining popularity in recent years.  Depending on the concept, it can blend into the arrangement or be exposed and play first fiddle in the room. It can be combined with other elements of the "BÓN" series or be otherwise matched to an individual project.
High quality oak wood
As all products of the "BÓN" collection the oak dressing table has been made in Poland, according to the Polish design and from Polish wood. Oak furniture is characterized by high resistance to abrasion, mechanical damage and deformation. It is durable and perfectly suited for intensive daily use. It is difficult to scratch. Thanks to the applied varnish the surface of the table top does not absorb stains and other accidental dirt. 
The price of the furniture is indicated without accessories - you may buy them separately.
Dimensions:
Top 140x70 cm, height 75 cm.
Top material

Solid wood

Leg material

Solid oak

Height adjustment

No

Width

Depth

Height

Finish

Matte lacquer

Delivery after agreement with the customer

Yes

Collection

BÓN
16 other products in the same category: