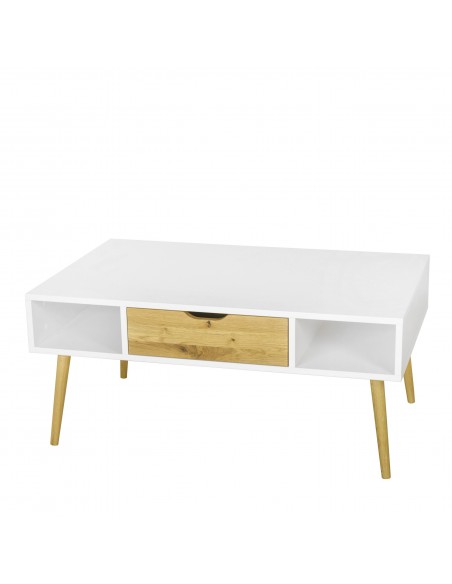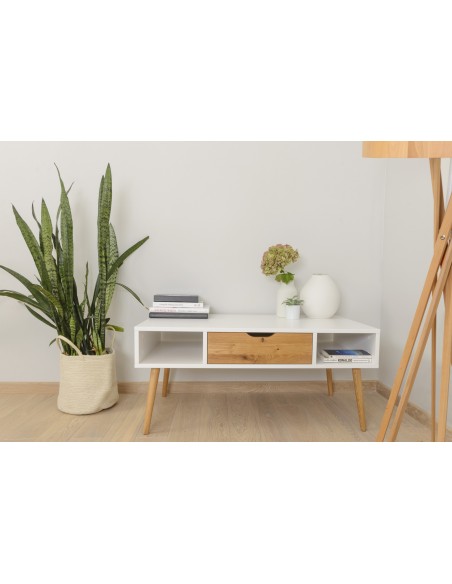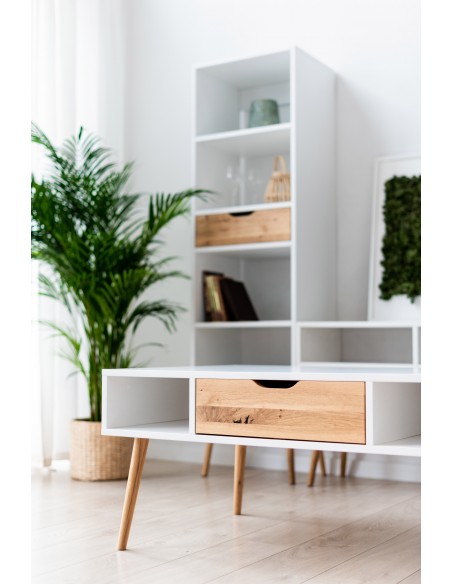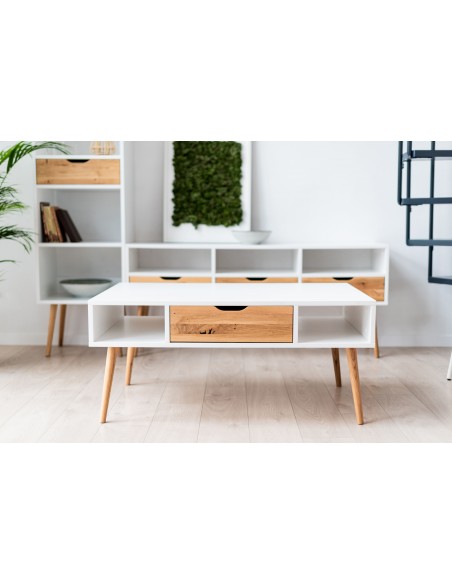 Cofee table BOX 110 cm, white with wood, Scandinavian style
The BOX coffe table is a unique piece of furniture that can serve many purposes in our home. It is most commonly used as a table where we can relax and have coffee with our loved ones. However, it can also be used as a cabinet for TV or audio equipment. Its multifunctionality constantly surprises us and we continue to find new uses for it. Delivered in flat packages for self-assembly.
Dimensions: width x length x height
70 cm x 110 cm x 49 cm
Materials and finish:
Body: MDF board, white paint
Fronts: solid oak, oil finish
The lowest price of the product in the last 30 days before the discount is introduced is PLN with TAX
We present an unusual piece of furniture from our new BOX collection – a table called occasional.
This unrivalled element of equipment, thanks to its uniqueness, can play many roles in our household. Most often used in accordance with its name as a table at which we can relax or drink coffee in the company of our loved ones every day. However, nothing prevents it from being used as a cabinet for audio or video equipment. Its multifunctionality constantly amazes us and we are rediscovering a number of new applications. By combining white with wooden elements, it will blend in with virtually any arrangement.
The timeless form and style give it lightness and finesse, which is often lacking in our interiors, and the shape and colour will perfectly match any arrangement model, from Scandinavian to rustic, giving the space an individual character, while the white will optically expand the space. Our table is a synonym of practicality and originality, and thanks to its values we can create an original arrangement that will definitely have a positive effect on the atmosphere that prevails in our interiors and will add undeniable charm.
The table was made entirely of solid wood combined with a laminated board.
Wood used for the production of our furniture was obtained from Polish forests in a responsible manner, and no harmful substances were used to finish it. The product is fully ecological and safe. The table top is not the smallest, which allows you to use it in many ways - it can accompany us when working on a laptop, board games with friends and finally while relaxing with a cup of tea. In addition, it has two niches in which we can keep things that are useful on a daily basis and a drawer for our treasures. It gained considerable approval from designers or bloggers during the fair, at which we had the opportunity to present our products. The great advantage is the ability to combine colours, our table is not afraid of any, the only thing that limits it is our imagination.
And how do you plan to use our table?
Front material

Solid oak

Fronts finish

Colorless oil-wax

Body finish

White paint

Body material

MDF

Leg material

Solid oak

Leg finish

Oil

Length

110 cm

Width

110 cm

Height

49 cm

Weight

35 kg

Colour

white

Assembly

Requires assembly

Quantity of parcels

2

Collection

BOX
11 other products in the same category: