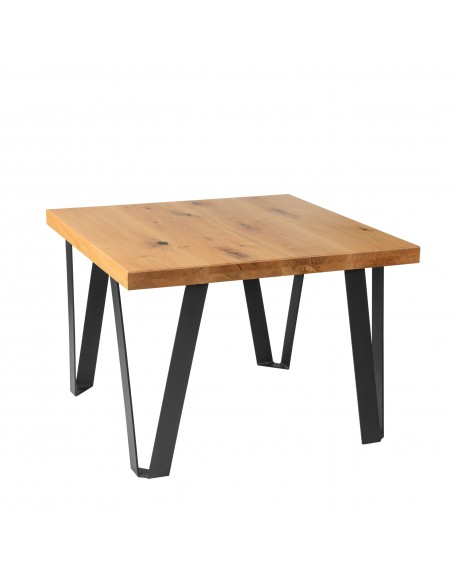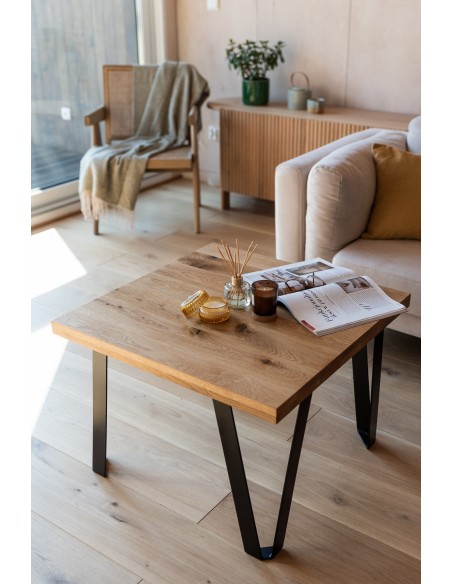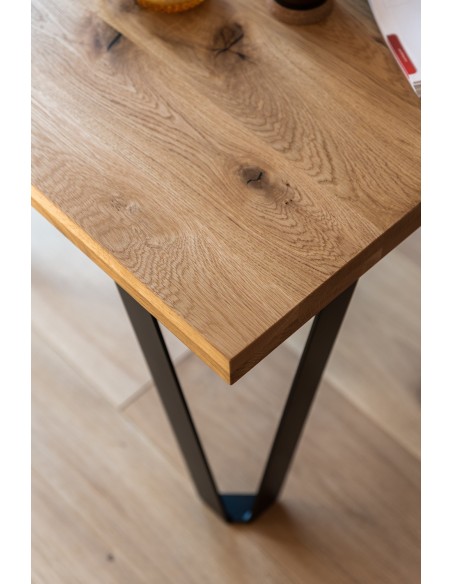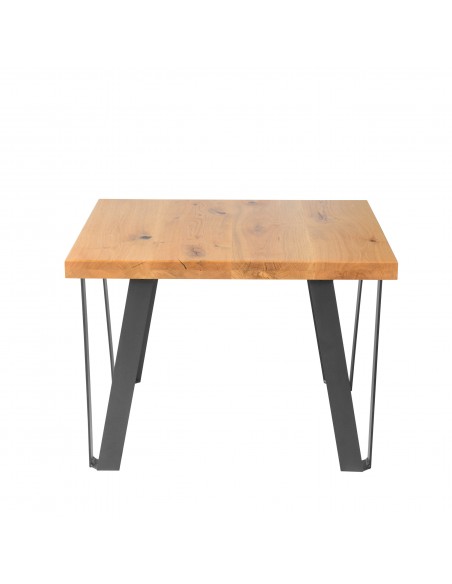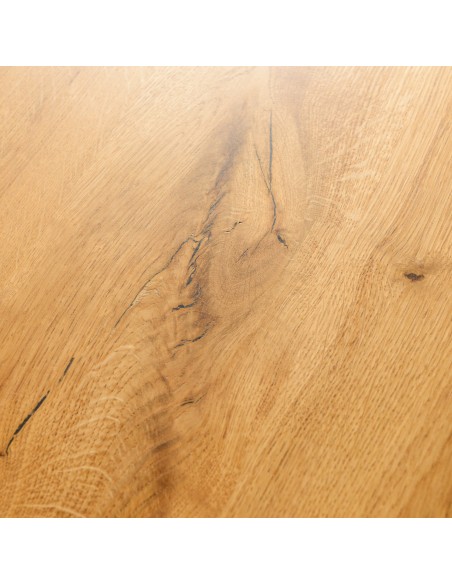 Reference no. FREST02-213
Square Oak Coffe Table FREJA
The rustic-style Oak Coffee Table Freja is an extraordinary piece of furniture that will delight any connoisseur of good taste and style. This piece of furniture meets the expectations set by almost every design style, from modern to loft, to rustic. Freja is an exceptional oak coffee table with metal legs that will certainly captivate its class, solidity, and execution by many interior designers. The thick top used for its production is a rustic, oiled, solid oak. The black metal legs are made of a 450 mm wide flat bar.
Dimensions: length x width x height
70 cm x 70 cm x 49 cm
Thickness of the top: 4 cm
Material and finish:
top: oiled oak
legs: metal
The Freja oak table with metal legs.
An unusual oak table that will delight many connoisseurs of good taste and style. It is a piece of furniture that meets the expectations of almost every design style - from modern, through loft, to rustic.
Freja is an unusual oak table with metal legs, which will surely captivate with its class, solidity and the performance of many interior decorators. The thick table top used for its production is a rustic, oiled, solid oak. The metal legs in black are made of a flat bar 450 mm wide. It is worth to add, that the wood used for production is obtained in a responsible manner in Poland and is covered with materials that do not harm health and are ecological, and thus are safe for nature and users. In addition, the materials used do not contain toxins that are hazardous to health, and their designs give them a timeless look.
In a loft style, where materials such as concrete, brick, wood and metal reign, it will perfectly add character to your space. Thanks to its simplicity and timeless style, it will remain a fashionable piece of furniture for many years, even if the interior design is changed.
The presented oak table will give expression and good taste to many rooms. Perfect for virtually any arrangement. He is not afraid of simplicity, transparency and spaciousness of a modern style, or elegance and comfort of a classic style. However, the Scandinavian style is even created for him! The size of the table top is 40 x 700 x 700, therefore it works well in both small apartments and large houses. Simple and comfortable - as it should be in the Scandinavian style, additionally wood that will warm up any interior and an ergonomic form that will bring harmony.
Our oak table is the perfect piece of furniture for people who are not afraid of unconventional ideas and are looking for solutions that will add flavor to their interiors. It is an innovative piece of furniture that will surely conquer the hearts of many designers and delight guests who will enjoy with us delicious, freshly brewed coffee.
16 other products in the same category:
Customers who bought this product also bought:
A 60 cm diameter oak table with a shelf on four 49 cm legs. Made of oak wood, coated with natural oil. It will be perfect in the living room as a coffee table, and thanks to the built-in shelf under the top, we can hide things like the TV remote or a book there. The delivery time is 3 weeks, shipping is free. There are 3 color variations available - a...
Freja, Oak bench with metal legs. A unique product of our collection - an oak bench with metal legs, which will undoubtedly occupy a leading place in every home. Our oak bench, whose top is solid oak, in a rustic style, is a kind of "warmer" of any space. Metal legs made of a black flat bar combined with an oiled top is minimalism and elegance in itself....