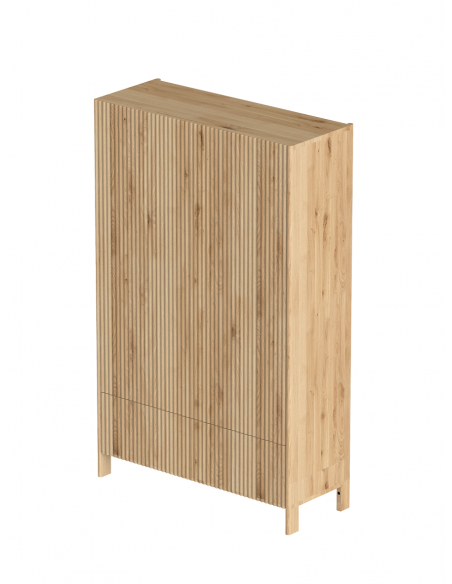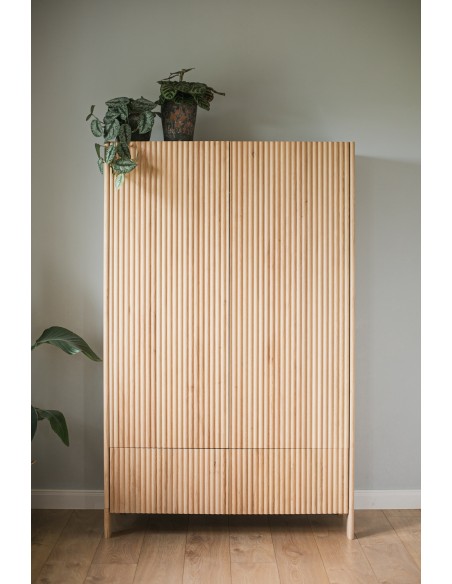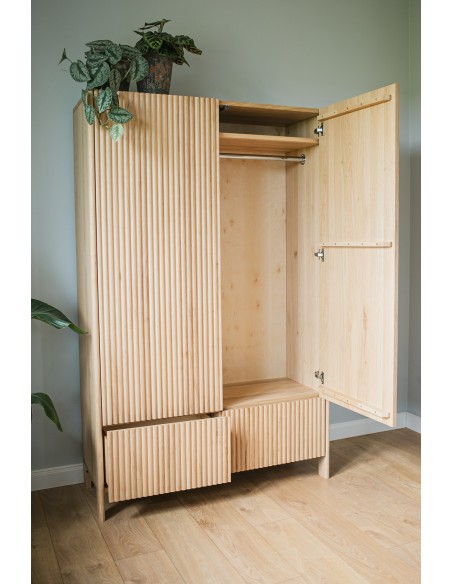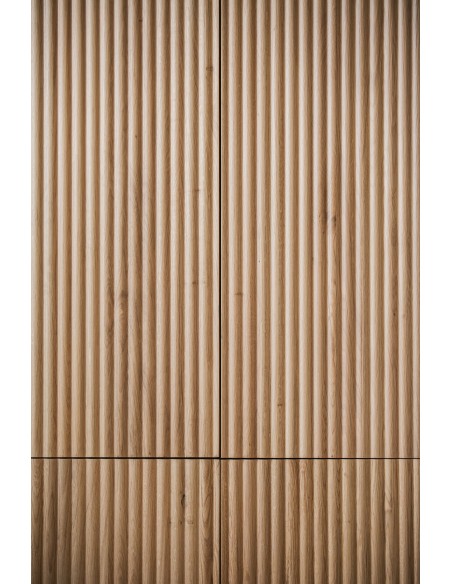 Wooden wardrobe for clothes, which will perfectly fit into a bedroom or a hallway. Inside it has a convenient hanger and a shelf above it, while in the lower part there are two spacious drawers. The wardrobe was made of the highest quality solid oak, and the surface was covered with mat varnish which gives the effect of raw wood. Fluted fronts add a unique character to the wardrobe, and the design of the entire collection was awarded in the Good Design 2021 contest. We deliver the wardrobe already assembled.
Wooden wardrobe for clothes
This wooden wardrobe from the BÓN collection is a practical and useful piece of furniture, which at the same time pleases the eye with its interesting and sophisticated design. The wardrobe is spacious and very useful, but thanks to its light form it does not visually overwhelm the room in which it is located. The design is a tribute to sublime simplicity and is inspired by the Scandinavian style. It will perfectly fit in with both modern and classical interior design. It gives them elegance, harmony and a distinct designer touch.
The sophisticated style of the BÓN wardrobe
Despite its simplicity, the wooden wardrobe is not a standard piece of furniture. The oak fronts of the doors and drawers are finished by grooving the wood surface, which gives them an attractively interesting appearance. The design is minimalist and modest in expression, yet unconventional and very eye-catching. It undoubtedly confirms the thesis that minimalism does not have to be boring. The wardrobe has been finished with a colourless varnish, which gives it increased strength and resistance to wood colour changes and a matt elegant finish. The overall effect is enhanced by the natural, unique grain of the oak.
Layout and application
This wooden wardrobe has a functional shelf at the top, under which there is a bar to hang clothes on hangers. Free space allows you to store longer items, such as coats and long dresses. At the bottom, there are two convenient drawers that open and close easily and quietly. Their base is made of strong birch plywood, thanks to which they have solid and secure construction. A wooden wardrobe will work well, especially in a bedroom and a hallway. However, nothing stands in the way of placing it in the living room, which may be necessary in the case of small flats.
Solid oak wood of high quality
Similarly to other furniture from the BÓN collection, this wooden wardrobe is made of solid oak wood of Polish origin. The design and production also take place entirely in Poland. Oak is characterized by its hardness and durability. The furniture made of oak is then resistant to accidental scratches, deformation and abrasion. It serves long years even if used intensively. Protecting the wardrobe with high-quality oil makes the wood resistant to discolouring and scratching Your wardrobe will not require additional maintenance, will be easy to clean and will not attract dust.
Front material

Solid oak

Body material

Solid oak

Material of the drawer bottom

Birch plywood

Back wall material

Birch plywood

Width

Depth

Height

Finish

Matte lacquer

Delivery after agreement with the customer

Yes

Composite product

Yes

Collection

BÓN
16 other products in the same category: