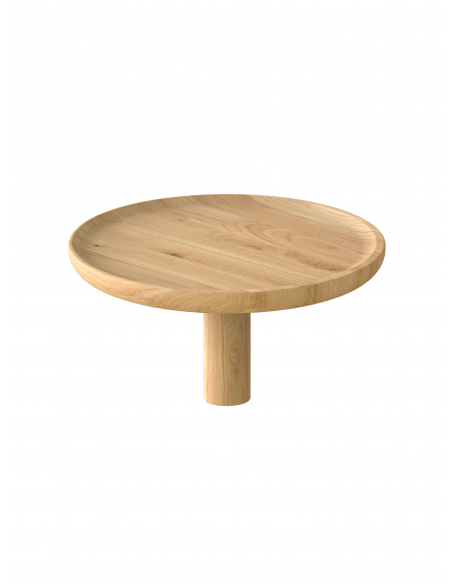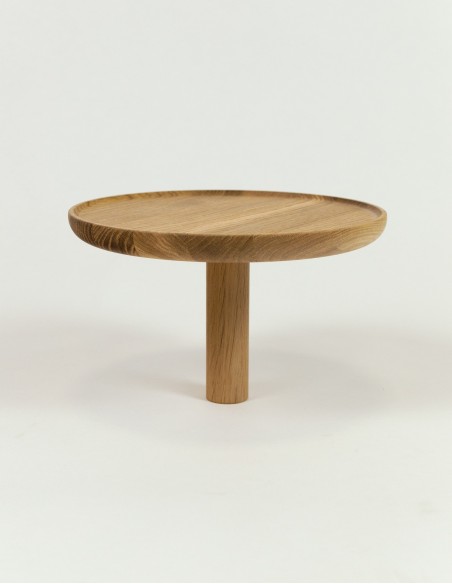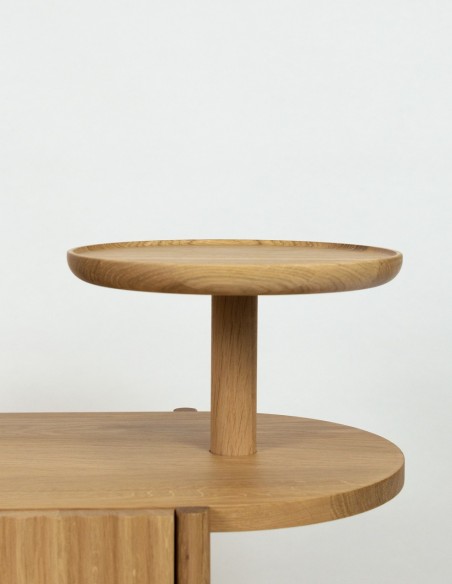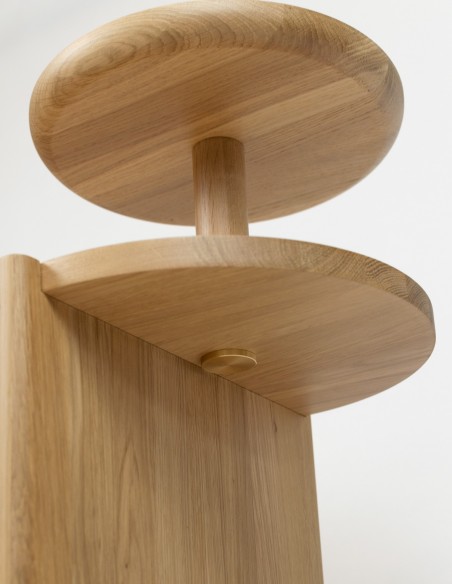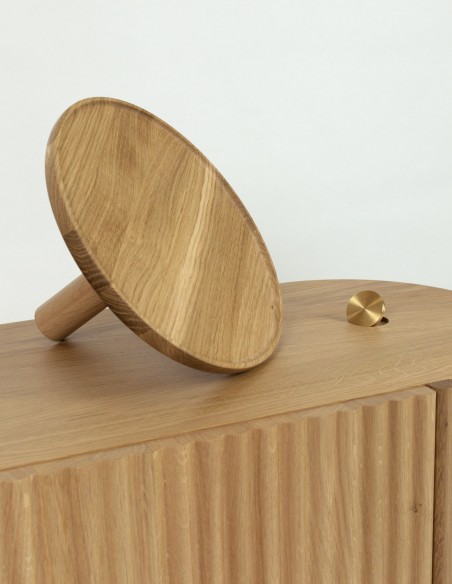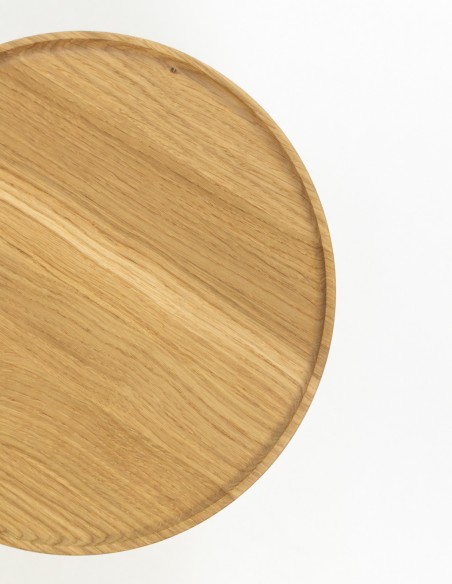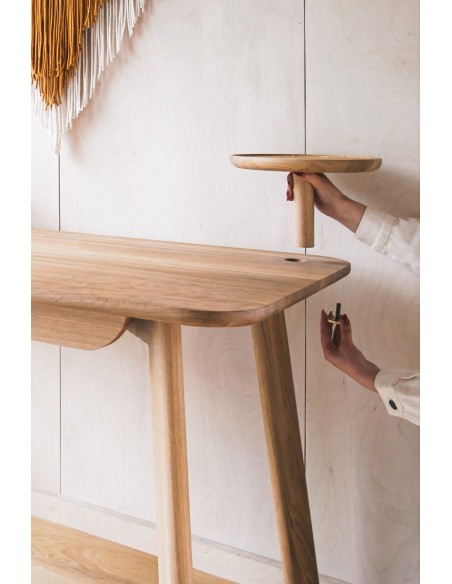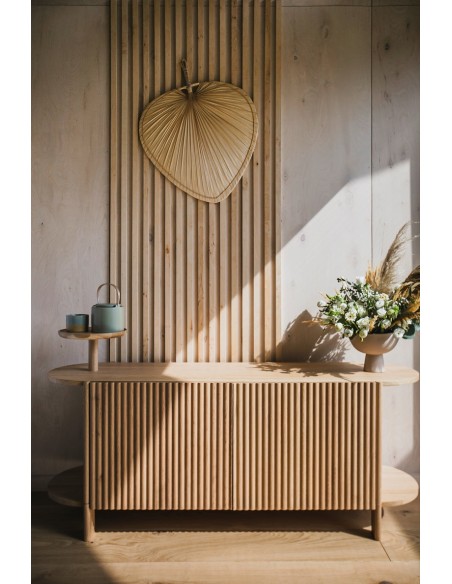 An oak tray covered in matt varnish, perfect as an addition to furniture from the BÓN collection. With the tray you will extend the functionality of the furniture, providing it with an additional surface. It will go perfectly with coffee tables, benches, chests of drawers, desks or bedside cabinets.
BÓN tray
The wooden tray is a modular element that can be mounted on various pieces of furniture from the BÓN collection: desk, chest of drawers, coffee table, TV cabinet, anteroom bench and bedside cabinet. The simple, clever design allows for easy assembly and removal of the element depending on current needs and preferences. When the tray is unscrewed from the furniture, the mounting hole in the furniture is protected by a discreet brass cover. The purpose of the tray can be freely changed which creates a wide range of arrangement possibilities and gives the user great freedom of choice.
Wooden cake stand on a desk
The tray can have many different uses. It can be used to place a pot with a plant, a vase with cut flowers, or other types of decorations. Many people would love to have an aesthetically interesting decoration on their desk, but usually there is not enough space for it given the pile of documents and accessories. The tray helps you to organise space effectively and separate such place. It can also be used to put away current documents or important mail. It is convenient to put a laptop on it, for example to watch a film, but can also be used to place a plate with snacks for some additional strength and energy during work.
Tailored to suit different arrangements
The designers of BÓN multifunctional furniture and accessories were inspired by the Scandinavian style. The wooden cake stand is very practical and at the same time has a nice eye-catching form. The interesting modern design goes hand in hand with functionality and the unconventional design will add variety to any interior. BÓN furniture and innovative accessories do not only fit well with Scandinavian style. They also fit perfectly into loft, vintage, boho, classic and trendy eclectic styles. Accessories change the character of furniture in an original way, cleverly combining utilitarian and decorative functions.
Durability for years
The frame and leg of the tray are made of high-quality oak. The wood has been protected with a matt clear varnish with very good parameters of durability and strength. Such a finish gives the tray a raw and unique look. According to our philosophy the whole production process takes place in Poland. The wood comes from the State Forests and is processed in our in-house sawmill. The design itself is also Polish. The choice of oak as material for the cake stanf was determined not only by its origin, but also attractive appearance and durability.  The cake stand is resistant to scratches and accidental damage.
Height

Diameter

Finish

Matte lacquer

Collection

BÓN

Material

Solid Oak
16 other products in the same category:
Customers who bought this product also bought:
BÓN Collection
MoonWood
BONSO02-107
A solid round oak coffee table. The surface is coated with matt lacquer that is easy to keep clean. In addition, this varnish gives the oak a raw wood effect. A compact table that will work well in small spaces. We provide free delivery of already assembled furniture. The project was awarded in the Good Design 2021 competition. The furniture was made in...