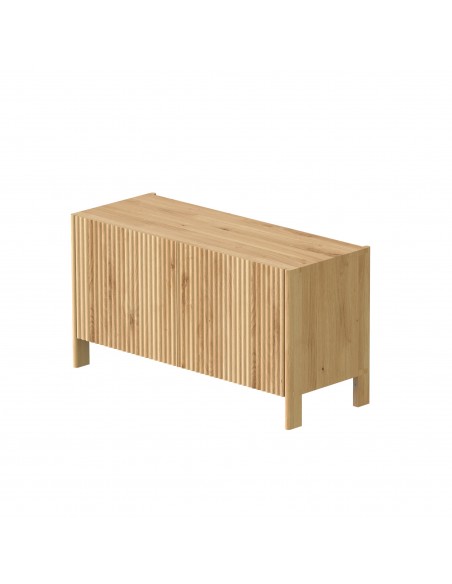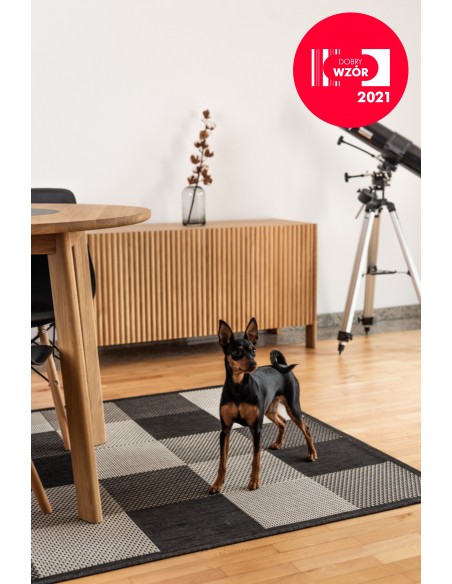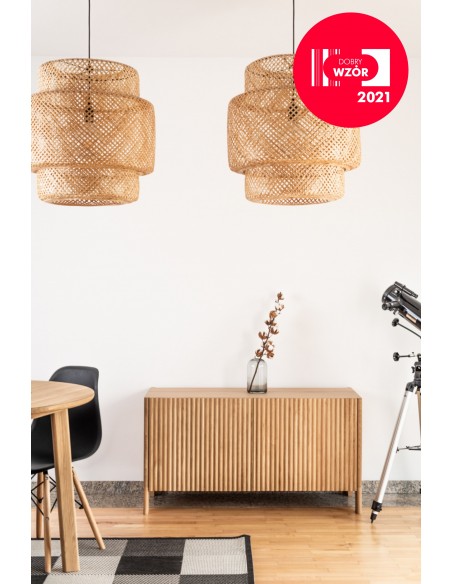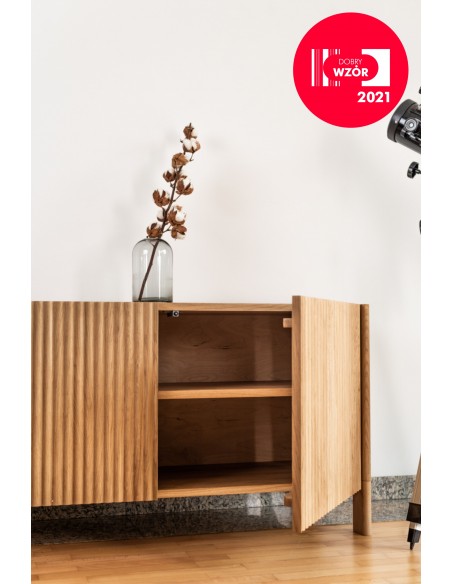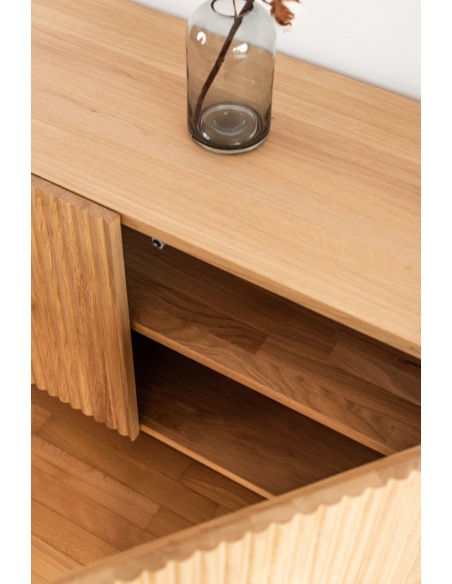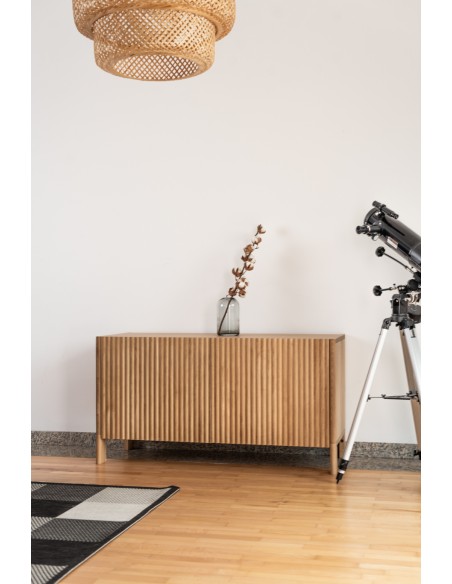 A wooden chest of drawers made of solid oak in an oval shape and with fluted surfaces. Perfect for modern, vintage and boho style interiors. Its matt, lacquered surface mimics the raw oak and gives the chest of drawers a natural appearance. There are rounded shelves on the sides. There are no handles in this chest of drawers - we've incorporated an easy-to-use push-to-open mechanism. We deliver the chest of drawers already assembled and adjust the door on site. The project was awarded in the Good Design 2021 competition.
Made in Poland
Dimensions: width x depth x height
113 cm x 44 cm x 60 cm
Material and finish:
Solid oak, matte lacquer.
The lowest price of the product in the last 30 days before the discount is introduced is PLN with TAX
Straight low oak chest of drawers
The low wooden chest of drawers is one of the members of the BÓN family of multifunctional furniture. The collection was honoured with an award in the "Good Design 2021" competition, organised by the Institute of Industrial Design. The chest of drawers is made of solid oak wood. The narrow legs give it slenderness and ensure that it does not visually weigh down the interiors in which it is placed. The fronts of the piece of furniture were finished using fluting technology. It is safe to say that the designers of the chest of drawers have masterfully combined the elegance and comfort of use in a single form.
Timeless design
The wooden low chest of drawers is characterised by a simple yet original design. The shape is characterised by economy of form, which is effectively broken by regular vertical grooves milled into the fronts. The corrugation refers to old craft traditions, while at the same time giving the furniture a modern dynamic expression. It introduces a three-dimensionality to the design and makes it highly original. Thanks to the combination of this interesting technique and the use of high-quality solid oak, the chest of drawers can be called exclusive without hesitation. At the same time, its timelessness attracts attention. The versatile chest of drawers is ideal for use in a representative living room, children's room, bedroom or hallway.
Inspired by Scandinavia
Scandinavian inspiration is expressed through natural light wood and simple, unobtrusive form. The simplicity is supported by the absence of handles, which have been replaced by a convenient push-to-open system. The chest is elegant, but visually subdued. The raw matt finish in clear varnish also alludes to a Nordic ambience. The designers focused on maximum functionality while maintaining a high aesthetic value. The whole is a very effective combination of minimalism and homely warmth, which is characteristic of Nordic arrangements. The door conceals convenient shelves that will serve to store items that we do not want to keep on top. On the other hand, the oak worktop is a great place to display interesting decorations.
Nature-friendly
The wooden simple chest of drawers is an entirely Polish product. It was designed in the country by young talented Polish designers. The oak used in the furniture production process comes 100% from the State Forests. We source the wood exclusively from areas with an FSC sustainable forest management certificate. Buying raw material from local markets reduces transport and minimises creating an environmentally harmful carbon footprint. The use of natural oak and the highest production standards make the chest of drawers a piece of furniture that will last for many years
Top material

Solid wood

Front material

Solid oak

Body material

Solid oak

Width

113 cm

Depth

44 cm

Height

60 cm

Weight

45 kg

Delivery after agreement with the customer

Yes

Composite product

Yes

Collection

BÓN
16 other products in the same category: